With its two spring residencies in Tokyo (30 Apr – 5 May 2020) and Weston Rhyn (24 – 31 May 2020) just around the corner, we have asked two adult participants who joined PIANO WEEK in the UK and Italy to tell us about their experiences, and what playing the piano means to them.
Emily Pearl Campbell, BA(Hons),
Content continues after advertisements
LTCL / London
Emily Pearl Campbell (left) & Samantha Ward (right), Artistic Director & Founder of PIANO WEEK
'Studying the piano has been an integral part of my life. I started at the age of six, studying for eleven years before taking a ten-year hiatus after my Dad passed away when I was 17. He had heavily influenced me with classical music, and I had been on the path to becoming a concert pianist.

During that lost decade of playing, it was unbearable to even look at a piano. Moving to London from Canada in 2009 transformed my life. Not only was I inspired to pick up playing the piano again in 2010, but I met Samantha Ward the following year and started taking lessons with her. That was when the second stage of my piano journey really began, and I have not looked back.

My first experience attending PIANO WEEK was in Foligno, Italy in 2018 and it was one of the most memorable weeks of my musical life, before attending Rugby in 2019. These programmes not only provided comprehensive study with world-class teachers and a performance platform for the students, but also connected me with other like-minded pianists who are passionate and supportive.

Between Samantha's ability to bring out the best in her students, and my innate drive and desire to push myself to fulfil my potential, last year I attained my Licentiate Diploma in Piano Performance with the Trinity College of London, juggling practice with a full-time job in finance.

I aim to do the Fellowship Diploma soon and look forward to attending PIANO WEEK 2020, continuing my journey in such a creative environment.'
Dr Kevin Walsh / Hexham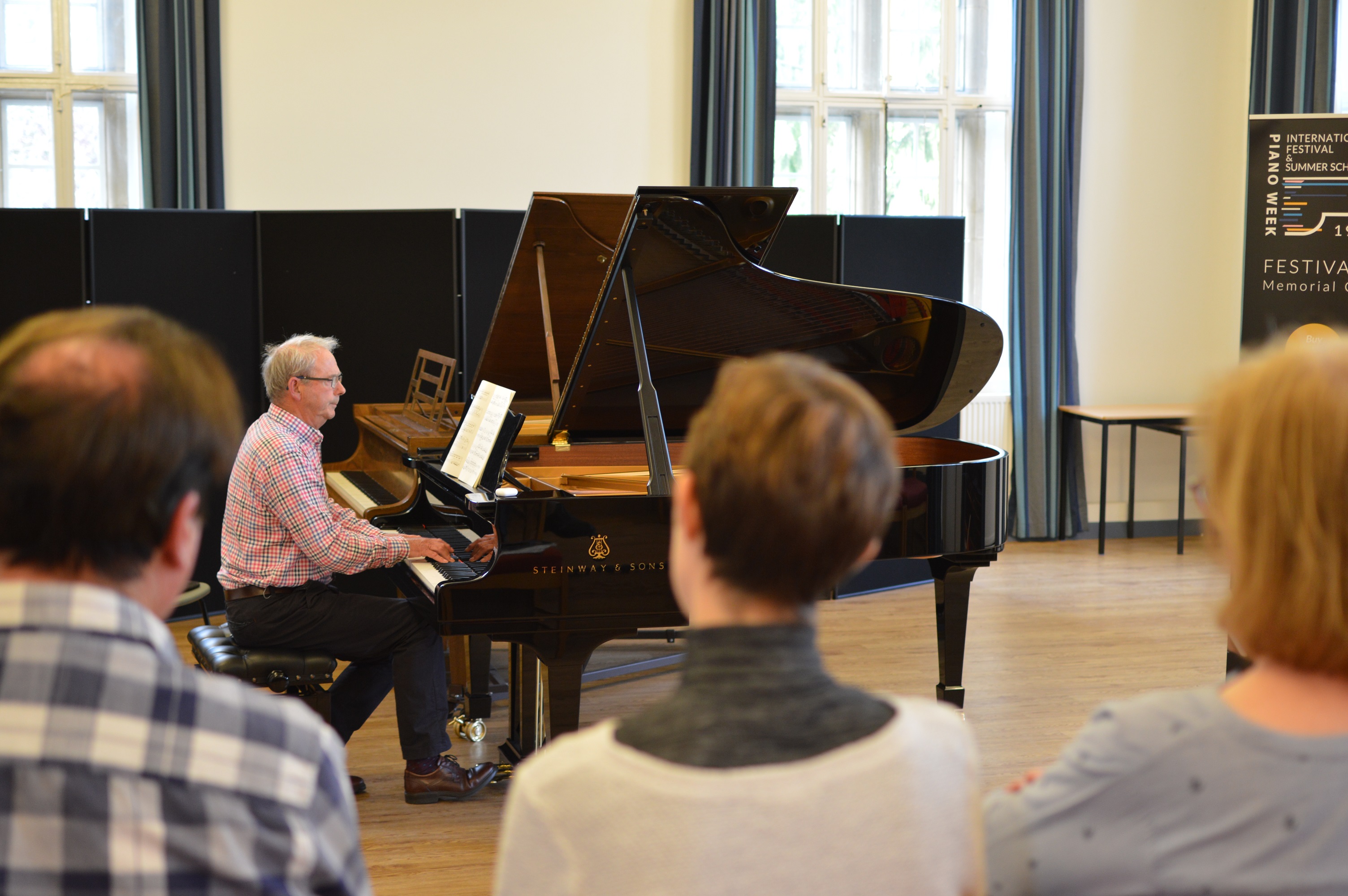 Dr Kevin Walsh at PIANO WEEK Rugby, August 2019
'As a retired surgeon I wanted to develop other targets. Playing the piano has always been precious since aged eight, but here was the chance to take it further. Taking higher exams was rewarding, but still something was missing, perhaps the essence of music, the ability to communicate and share oneself with others.

That is where PIANO WEEK came in, a forum whereby these dual aims, technique and communication, were met. In the process I discovered wonderful people within both professional faculty and participants. It was quite a revelation finding faculty members as normal, friendly people.

The participants represented a wide range of developments, all sharing a common feeling of togetherness. A great friendliness and support from all quarters. The format of the week provided intensive lessons, ample practice opportunities and performances (both solo and duet) together with theoretical sessions on topics such as harmony, composition and sight reading. Nothing obligatory, but infectious enthusiasm everywhere.

I have been to four successive annual PIANO WEEKs, three at Moreton Hall, one at Rugby, each with their special attributes. If there is a downside it might be that it becomes addictive, a part of life which cannot be done without. Friendships are formed which extend beyond the basic week. I don't know which one I will go to this year!'
If you would like to hear more from other summer school enthusiasts and faculty members, you can watch their testimonials here:
PIANO WEEK will run six times between April and August 2020, in collaboration with Steinway & Sons, G. Henle Verlag, Schott Music and Pianist Magazine, and offers participants of any age and ability an opportunity to study with top concert pianists at multiple locations in the UK, Italy and Japan.
To find out more or to apply for a place, please visit pianoweek.com.
Main image: © PIANO WEEK Tokyo – April 2019
Content continues after advertisement