Throughout the years, Steinway has collaborated with some of the most notable artists and designers worldwide. Here, we pick out five of the most eye-catching designs.
1. The 300,000th piano – The White House, 1938
Back in 1938, Steinway gifted their 300,000th piano built to the White House.
It features fine gold leaf decoration representing five musical forms indigenous of America; the three gilded mahogany legs are carved as American eagles.
Content continues after advertisements
2. Chihuly Olympia, 2002
This particularly eye-catching piano was designed by American master glass sculptor Dale Chihuly. Featuring lime green exterior, neon yellow and orange keys, the Model D was originally unveiled at the Salt Lake City Winter Olympics in 2002.
The lid features a series of winter images made up of bright colours that represent the Olympic spirit, a clear glass piano desk and a translucent glass top, the first ever designed for a Steinway piano.
3. Sound of Harmony, 2008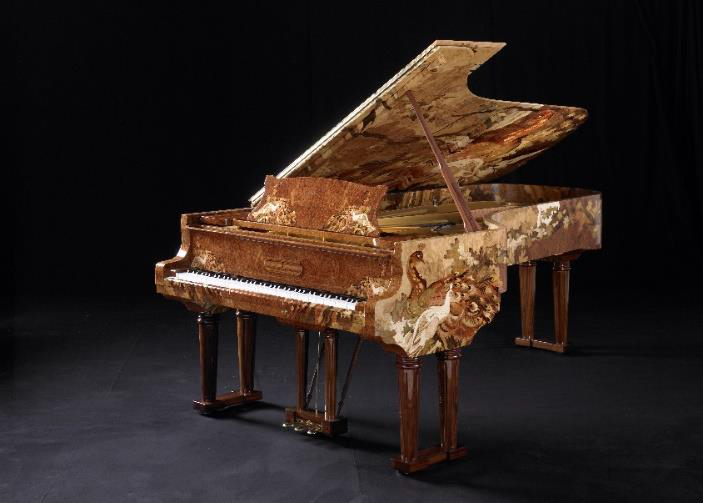 We adore this design. Showcased at the World Fair Shanghai in 2010 and owned by a private art collector, the Sound
of Harmony is a beautiful example of an Art Case grand piano: decorated with inlays of 40 different woods including ebony, ashwood and rosewood, the lid replicates artwork by Chinese painter Shi Qi.
4. Pictures at an Exhibition, 2012
The is the first Steinway piano to be inspired by a piece of music.
It was hand-painted by renowned visual artist Paul Wyse. The case and lid feature immortal images and personalities from Russian musical history and folklore, culminating in grand manner oil paintings adorning both sides of the lid. The piano legs are finely crafted in the form of Baba Yaga's hut and balance on richly-cast bronze hen's legs.
Twenty-four-carat gold leaf highlights are expertly worked into the intricately detailed paintings, and the gold-plated music desk and pedals frame original rose wood keys.
5. The Fibonacci, 2015
In 2015, Steinway marked another milestone with the unveiling of its 600,000th piano: The Fibonacci.
Designed by custom furniture designer Frank Pollaro, the piano was created to demonstrate the company's ongoing commitment to uncompromising craftsmanship.
The piano's veneer features the iconic Fibonacci spiral made entirely from six individual logs of Macassar Ebony; the lines of the spiral on the top of the piano's lid are projected down to its unique curved base.
Which design is your favourite?
All images: ©Steinway & Sons Ltd
Content continues after advertisement