Writer Inge Kjemtrup dishes up a wealth of interesting pieces for professional and amateur pianists to delve in to
Something is changing, and rapidly, in the classical music world: music by women is being recognised and performed on a regular basis.
Music composed by women has provided the impetus for several recent concert series and is now found on the syllabi of exam boards where not so long ago, it was a rarity. 2019's BBC Proms included a cornucopia of works by women composer – historic and contemporary – while BBC Radio 3 adds a female-composed work to every Breakfast programme.
It doesn't hurt women composers that others of their gender are venturing into the traditionally male domain of the conductor's podium. Indeed, it seems to be a golden era for women conductors, with rising stars like Mirga Gražinytė-Tyla, conductor of the City of Birmingham Symphony Orchestra, and Karina Canellakis, who conducted the first night of the Proms not long ago, along with the well-known Marin Alsop.
Meanwhile, PRS Foundation launched the ground-breaking Keychange initiative to encourage festivals and music organisations to reach a 50:50 gender balance by 2022. So far more than 250 organisations around the world have committed to this initiative. It's helped women composers see their work more on concert programmes. Bottom line? When work by women is performed regularly, it's no longer a novelty and, happily, there is a lot of great music by women to delight performers and listeners alike.
'It seems that the musical world has finally woken up to the fact that women can and do – and always have – composed,' says Helen Wallace, programme director of Kings Place and the deviser of the year-long Venus Unwrapped series at the London performing arts venue.
With advice from Wallace and other musical colleagues, I've made a whistle-stop tour of some of the most interesting women composers...
Wilhelmine von Bayreuth (1709–1758)
Wilhelmine was Frederick the Great's sister and a contemporary of JS Bach. Wallace hails von Bayreuth's 'magnificent harpsichord concerto', which was performed by Robin Bigwood at the Venus Unwrapped festival.
Content continues after advertisements
Maria Theresia von Paradis (c.1759–1824)
A virtuoso pianist, an organist and a singer. Though blind from the age of two, von Paradis, whose father was the Imperial Secretary to the Austrian Empress Maria Theresa, received an excellent musical education including studies with Antonio Salieri.
She performed some 60 concertos and sonatas from memory and knew Mozart and Haydn. Though many of her compositions are sadly lost, some of her piano works survive, including the Fantasie pour Le Piano-forte, available through Hildegard Press.
Marie Bigot de Morogues (1786–1820)
A concert pianist whose playing was admired by Haydn and Beethoven, and who later taught Fanny and Felix Mendelssohn. Morogues was said to have sight-read Beethoven's 'Appassionata' Sonata from the score (he later presented it to her), and she introduced the composer's work to her native France, besides writing her own works for piano.
Helen Wallace recommends her Suite d'études, which pianist Betty Ann Miller plays on her Suite d'etudes: I. Etude in C Minor: Allegro album here.
Maria Szymanowska (1789-1831)
Before Chopin came to embody Polish pianism, there was Szymanowska. Beautiful and brilliant, Szymanowska packed the concert halls across Europe with her playing. She became court pianist to the Russian Tsar and was praised by contemporaries including Hummel, Field and Robert Schumann.
A prototypical Romantic figure (Goethe was said to have been in love with her), Szymanowska composed over 100 works, including numerous piano miniatures. Try her Mazurka in C which appears in the Scores section of issue 110 of Pianist.

Fanny Mendelssohn Hensel
Then there's Fanny Mendelssohn Hensel, who was described by Goethe as 'equally gifted' to Felix, who also admired her.
However, her only musical outlet was private performances at her home in Berlin. There she organised the programmes, conducted a choir and played the piano. Leading artists and musical aficionados flocked to the private concerts.
Although some of Mendelssohn Hensel's youthful songs were published alongside her brother's – and others were perhaps credited to him – she did not begin to publish under her own name until shortly before she died, aged 42. Some of her works, including a piano quartet and a movement for a piano sonata, did not see publication until the 1990s, and many still await publication. One of her most interesting works is a solo piano cycle called Das Jahr (The Year), a musical diary of her year in Italy. That piece is a real undertaking, but intermediate-level players can try her Bagatelle No 2 on page 31 of issue 110.
For many women composers, a supportive spouse makes all the difference between a brief career and a lasting one. Mendelssohn Hensel was fortunate in her choice of a husband, the artist Wilhelm Hensel (his drawings of the Mendelssohn circle are a lively visual record of an era).
She wrote of their life together, 'My husband makes a point of having me sit down at the piano every morning, immediately after breakfast, for afterward I'm constantly disturbed; this morning he came and without saying anything put a piece of paper on the piano; five minutes later I called him back and sang him the music, which was set down on the paper in another quarter of an hour.'
Agathe Backer Grøndahl (1847–1907)
For a representative of 19th-century nationalist style, look no further than this Norwegian composer.
Her song cycles, some of which incorporate Norwegian folk songs, are firmly in the Romantic style, as are her many characteristic works for piano, including Sommervise (Summer Song) which appeared inside Pianist 102 and I blåfjellet ('On the blue mountain'). A student of the Norwegian composer Halfdan Kjerulf, Backer Grøndahl also studied with Hans von Bülow and Franz Liszt, enjoyed a stellar career as a concert pianist and received acclaim for her songs and piano works.
There are piano miniatures by Backer Grøndahl worth exploring, and more advanced pianists might like to try her challenging Concert Etudes.
Amy Beach (1867-1944)
Many women composers found getting published to be an enormous challenge. This was not the case for this American composer, also known as Mrs HHA Beach.
The vast majority of her works were published and performed in her own lifetime. Beach was tremendously popular, and did well by her musical efforts – she even bought a summer house from the proceeds of three of her most popular songs, and in the 1920s there were Amy Beach clubs all over the United States.

Unusually for an American musician of her era, Beach did not study in Europe. Her studies began with her pianist mother and continued with Ernst Perabo, a Moscheles pupil, and Carl Baermann, a Liszt pupil.
As a composer, she was almost entirely self-taught – she learned counterpoint and fugue by writing out Bach's Well-Tempered Clavier from memory. Her prolific output includes a symphony, choral works, songs, an opera, chamber music, numerous solo piano pieces and the appealing Piano Concerto in C sharp minor (1900), which was dedicated to Teresa Carreño.
Beach's Polka Op 36 No 5 appears on page 42 of issue 110.

Teresa Carreño (1853–1917)
The Venezuelan-born was a leading keyboard virtuoso. Like Clara Schumann, Carreño had an ambitious father who recognised and encouraged his daughter's talent. In 1862 the entire family moved to New York, when Carreño became a student of Louis Moreau Gottschalk. She soon was giving concerts, playing before President Abraham Lincoln at the White House when she was ten years old.
Three years after playing for a president, Carreño played for Liszt, who told the young prodigy, 'My dear little Teresita, God has surely given you the greatest gift of all, that of genius. Work, develop your talents, but above all stay true to yourself, and in time you will be one of us…' This 'Walküre of the Piano' performed all over the world, and yet somehow found time to compose, marry four times (husband number three was the composer-pianist Eugen d'Albert) and bear six children.
Carreño's music has a youthful charm – not so surprising when one learns that she wrote much of it before she was 20 years old – and if it is 'elevated salon music', it is salon music for a virtuoso. Her first elegy ('Plainte') Op 1 and Un Rêve en mer – Méditation Op 28 are particularly attractive, with an inward-looking, reflective mood. Perhaps her most famous work is a little waltz ('Teresita').
Cécile Chaminade (1857–1944)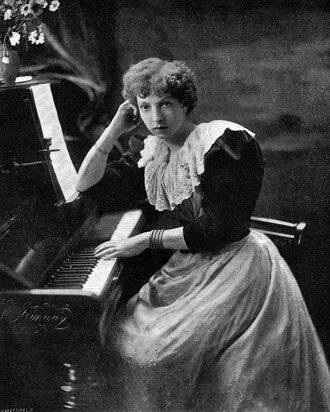 This is another composer tarred with the salon music brush. Like Beach, Chaminade was both prolific and popular. Her parents were amateur musicians and, as with so many women composers, it was a chance meeting with a great composer – Hector Berlioz in Chaminade's case – that inspired her parents to provide their daughter with serious musical education.
Chaminade, whose Tarantelle appears inside issue 110, wrote nearly 200 piano works and Eric Parkin provides a piquant sampling in his all-Chaminade disc for Chandos, though he does not include her more substantial piano sonata.
Louise Farrenc (1804–1875)
The French composer may have had the best solution for the female publishing problem: marry a publisher. Farrenc, the only woman accorded the title of full professor at the Paris Conservatoire during the 19th century, is especially noted for her chamber music, in particular two piano quintets. She also wrote a widely praised set of etudes in all keys and published a 23-volume anthology of 17th- and 18th-century music (the Op 50 No 1 study appears inside issue 110).
'Her Symphony No. 3 stands comparison with the symphonies of Schumann and Mendelssohn,' says Wallace.
Mel Bonis (born Mélanie Bonis 1858–1937)
Bonis was a French composer who had to overcome many obstacles to follow her passion for music. Despite coming from a lower middle-class family uninterested in music and having to teach herself piano, she was admitted to the Paris Conservatoire, where César Franck was among her teachers.
After an unhappy arranged marriage and a complicated series of love affairs, Bonis resumed composing, writing some 300 pieces, including some for piano solo and four hands.
Germaine Tailleferre (1892–1983)
The career of the French composer Tailleferre was hampered by marital misfortune. Yet it had all started out so brightly at the Paris Conservatoire, where the young piano prodigy scooped up many prizes. Later when she became a member of 'Les Six' group of composers and had her music was played by Marguerite Long, Arthur Rubinstein, Alfred Cortot, Pierre Monteux and Leopold Stokowski. After hearing her two-piano work, Jeux de Plein Air (1917), Erik Satie proclaimed her to be his 'musical daughter'.
However, two unhappy marriages took their toll and combined with her own insecurities and financial worries, this led to Tailleferre to accept many commissions that, according to the New Grove Dictionary of Women Composers, resulted 'in many uneven and quickly written works'. Her body of some 300 works, which includes operas, choral works, film music, a piano concerto and many piano works, is beginning to re-emerge.
The Clinton-Narboni Duo made a disc of some of her very French two-piano and piano four-hand music, which includes the Jeux de Plein Air and the hilarious Fandango (1920), in which one part does its best to rein in the other part's wayward approach to the tempo.
Doreen Carwithen, a.k.a. Mary Alwyn (1922–2003)
© YouTube/The Valdoe
Moving further into the 20th century, there's Doreen Carwithen, who enjoyed a significant career as a film composer. I strongly recommend listening to the Chandos recording with Howard Shelley and LSO with Richard Hickox of her Concerto for Piano and Strings (1948).
It's a beautiful concerto with a playful first movement, heartfelt slow movement and a zippy final movement, and you can certainly hear the expansive writing style that helped her as a composer of film scores.

Henriëtte Hilda Bosmans (1895–1952)
Left: Frieda Belinfante. Right: Henriëtte Hilda Bosmans
The Dutch composer was also well regarded as a pianist. A friend of Benjamin Britten, Bosman was a free spirit unwilling to be limited by the conventions of her day. Her Concertino for piano and orchestra (1928) gives a sense of her free-wheeling aesthetic, with its echoes of Stravinsky and Poulenc.
Her name was given to one of the most famous composition prizes in the Netherlands.

I have provided only a taster in this article of the many interesting works by women composers.
I asked Wallace why she launched the Venus Unwrapped series and first on her list was 'the realisation that I had never played or sung a work by a woman in all my years of music-making, and that my children were growing up with an absolutely identical experience.' In creating the series, Wallace says, she 'was really keen to present a spread of music from across history in its context, to rebalance the menu and make a lasting change.'

Has it had an effect? 'I'm pleased to witness a genuine shift in the wider musical world, at festivals and in series, with ensembles now offering works by women in programmes, without having to be asked,' Wallace answers. 'The standard response of 'what, you mean Hildegard of Bingen? Or Clara Schumann?' (after which everyone seemed to draw a blank) would just not be acceptable today.'
*As an Amazon Associate, we earn from qualifying purchases.
*This article appeared inside issue 110 of Pianist.
Content continues after advertisement